The site was created in the poject "Research and promotion of the common cultural heritage", implemented in the Phare CBC Ro-Hu 2004 programme.
The site contains short presentations of the localities and the most important historical monuments of Satu Mare County. The informations are arranged in alphabetical order of the localities. They can be accessed through the search engine and the specific cathegories, too.


Map of Satu Mare County: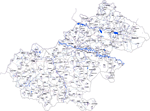 Authors of the texts: Diana Iegar, Jeney Ildikó, Sárándi Tamás, Szőcs Péter Levente.
No part of this publication may be reproduced without the prior permission of the authors.