Peleş - The Greek Catholic Church of "The Archangels St. Michael and Gabriel"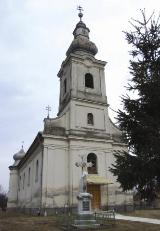 The Tatar invasion and the plague depopulated the village during the 18th century. Therefore, the owner family, Becsky, settled here Ruthens from Maramureş. The new inhabitants built in the 1730s a wooden church, though the ruins of the old stone edifice were still visible then. The new stone church was built around the wooden building. The project was made by Eggenberger Fridrik, a master from Satu Mare. The community made the building work, but it lasted quite long. The wooden church demolished at the first consecration of the church, in 1832. Four years later, the church was consecrated again, on the 20th of November, when, according to the old calendar, the feast of Archangels St Michael and St Gabriel was celebrated. The tower was built two years later. The structure and the volumetric proportion of the church are specific to the baroque style of the 18th century, but the shape and the architectonic elements are specific to the classic style. A robust tower is added to the western façade. The closing of the altar screen is semicircular, and two side-spaces – kliros – are enlarging the nave. The decorative elements are the same at the tower and at the nave: prominent cornice, pillars and ribbon-like window frames. The huge steeple of the tower is made in baroque style. The two side-chambers have an onion bulb shaped tower each, a common feature of the church-architecture in the area. The nave has a spherical vault. The furniture of the church dates from the 20th century, being made by "Rétay and Benedek" company. The iconostasis was made in 1907 while the altar in 1913 with historicist ornamentation and Byzantine paintings. The company made several similar furnitures in the area (e.g. Boghiş, Turulung, Tătăreşti). A specific element in the decoration is the position of the icon of the Holy Virgin, situated above the main door of the iconostasis, remembering to the iconostasis of Máriapócs (Hungary). The village is also known as the place where György Becsky (+1786) was born, the main character of the famous novel: "The journey of a village notary to Buda", written by József Gvadányi (1725–1801). (TSz).
References:
Terdik Szilveszter – Pallai Béla, Szent Mihály és Gábor arkangyalok templom (Biserica Sfinţilor Arhangheli Mihail şi Gavril, Peleş), Nagypeleske, 2006, Romániai magyar görög katolikus templomok 1.